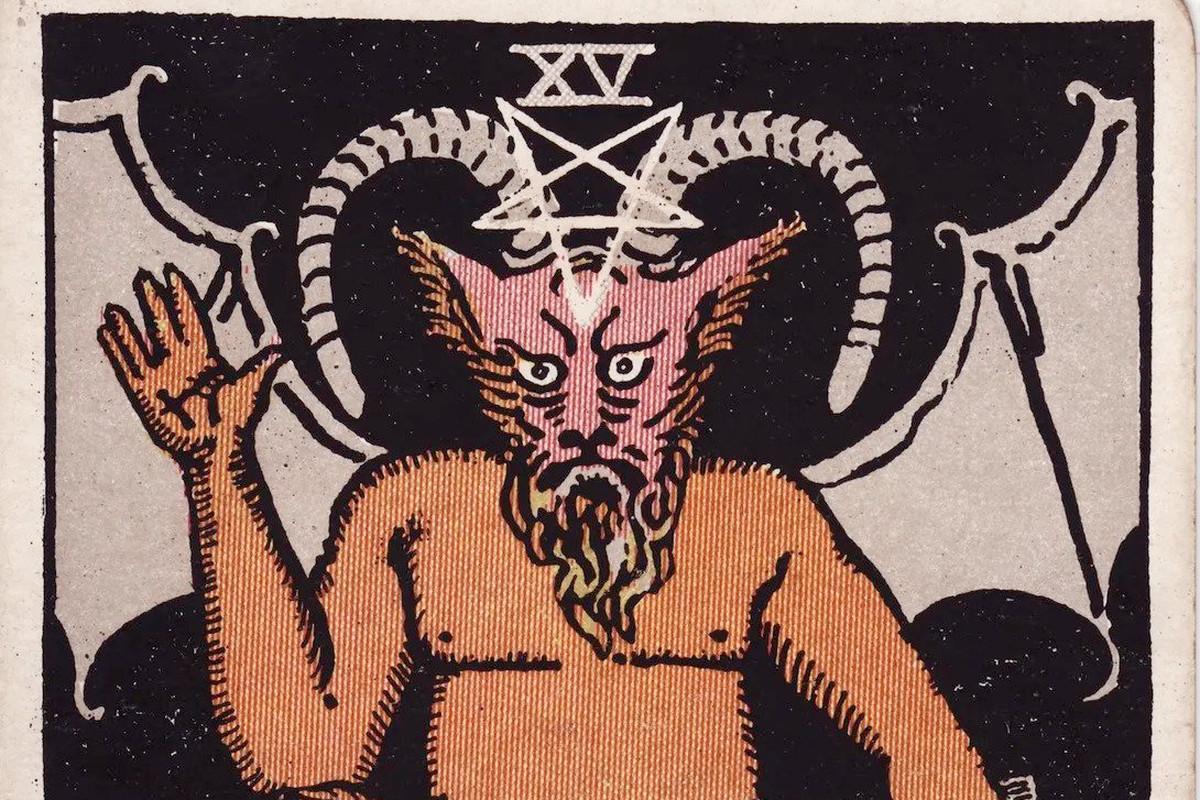 Well hello there,

Who's this cranky ole be-horned dude staring at ya?

If you are familiar with the Tarot then I am sure you recognize this glare coming from the number 15 card - The Devil.

And in my Annual Reading for the Collective (now available exclusively in the Circle Evolution Gift Bag), this piece of work showed up as the very first card for January's mini read.

What?

No Ace of Cups portending new love, or 10 of Pentacles indicating major fiscal reaping of rewards gettin' the 2023 party started.

(Don't worry, they did show up elsewhere)

Instead the card representing our deepest fears, control, bondage and our darkest shadow energy showing up in the first month of the year!

Greeeeeeeat!

But actually IT IS great, because with all the powerful intentions people set around the New Year it's an indicator that everything holding us back from achieving them must rear its nubbly head in order for us to experience true change.

If you've been following my work with The Circle of Light for a while then you already know that one of our primary goals is to help people understand the role of resistance in why things remain un-manifest.

And those things remaining un-manifest could be:
Better health and habits
More fulfillment and connection in relationships
Financial and career goals attained
Greater inner peace and Now Moment awareness
Fill in the (__________) of whatever is important to you
A positive intention will only take you so far, maybe a burst of focus and enthusiasm, half a proposal written, a new exercise routine started for 2 days, before "The Devil" of unconscious resistance will begin to throw its "back it up in reverse" energy around.

Suddenly the New Years momentum that was meant to keep us traveling through 12 months of change has us barely limping to Thursday the 5th.

UNLESS OF COURSE YOU ALREADY KNOW WHAT TO DO WITH RESISTANCE!!

In which case you're actually equipped to take that "Pull-Back Shadow energy" and use it to slingshot you into new stratospheres of creation.

You see there is no reason to fear "the Devil", when you understand it's a powerful source of creative energy once brought into the light.

Even the imagery of a biblical Devil, surrounded by the fiery flames of hell, speaks to the enormous amount of raw energy ready to be harnessed, instead of stewing away in our Shadowy deep below the surface unconscious.

Now what often catches people with a burn is when their well intended positive intentions, pushes up this fiery surge WITHOUT them understanding what's happening, or knowing what to do with it:
A hugely exciting goal activates a mass of fear and anxiety
A health kick turns into a shame faced binge
A loving relationship intention devolves into a trigger-fest blow out
Leaving you literally

"What the hell?"

as you survey the carnage of your New Years Resolutions.

That's why having a deliberate and CONSCIOUS process to activate and integrate unconscious resistance will leave you in charge of the process, rather than it being in charge of you.

It's going to make THE WORLD of difference in whether your positive intentions bring you a true sustainable change OR push you into the "cycle of suffering" that occurs when unconscious resistance emerges only to be pushed back down again because it's "too hot to handle".

BUT IF UNCONSCIOUS ENERGY IS UNCONSCIOUS HOW CAN WE SEE IT TO EVEN WORK WITH IT?

When you understand how projectional energy works you can avoid getting caught up in the details of the Minds stories (draining and distracting) and can start using EVERYTHING in your environment to GAIN energy.

As well as harness the the super power of your Primal Emotions through powerful non-resistance techniques.

These tools are what I outline in our foundational Circle Evolution training

THE AUTHENTIC POSITIVITY SYSTEM

And giving you the power to get ahead of your Devil is exactly the reason in the month of January I'm making the

CIRCLE EVOLUTION GIFT BAG A FREE BONUS when you purchase our Authentic Positivity System - Full Mentorship Program

You'll receive the all the audio, video and written material of the Authentic Positivity Boot Camp

(read the full contents here)

PLUS:
The 13 week mentorship course
Free month of MONDAY NIGHT AWAKENING CALLS
Full access to my private facebook group
AND everything in the Gift Bag as well:

ANNUAL READING FOR THE COLLECTIVE - Get a picture of the year ahead so you can organize your focus with our overall reading and monthly minis. Find out where the Ace of Cups, 10 of Pentacles AND the World card do show up!!

HEART CENTERING PRACTICE - A video guide to anchoring in the Heart Center to activate the creation of the Divine Heart Blueprint (your best creation ever)
EXCLUSIVE ZOOM ACCESS TO OUR YOUTUBE LIVES - Be part of the conversation and ask questions with myself and special guests. This month I'm going to be sharing several more ways you can get ahead of your unconscious Devil by intentionally activating and integrating it's energy BEFORE you get hit by the burn back.
POWERHOUSE CIRCLE OF LIGHT RECORDING
Alignment of Your Creative Gift with Earth Abundance
A wonderful recording if you want to connect to your creative skills, and gifts, and be supported in pursuing them. Great if you are aware of you creative abilities or if you are trying to get in touch with them. Lots of all important grounding with the Earth and a vibrational clearing of any blockages in the legs, hip, pelvis and lower chakras. Full of earthing energy and encouragement to experience success in your creative pursuits.
PLUS ENERGY INFUSED IMAGE
This image was created while I listened to the recording and holds its frequencies. Save it to your phone of computer and use it to boost the transmission.
PERSONALIZED ENERGY INFUSED TEXT
Receive a direct message from me infused with an energy transmission for a specific subject you are seeking assistance on.
$50 OFF ONE-ON-ONE SESSION WITH THE CIRCLE OF LIGHT
Start your year with a major energy boost by meeting with the Circle of Light. Let them be your "Illuminating Angels" to that unconscious inner Devil Lol

AND EVERY NEW FUN GIFT THAT SHOWS UP IN THE BAG FOR THE LIFE OF THE GIFT BAG PROGRAM
One of these programs alone provides immeasurable value, but the Authentic Positivity System PLUS Circle Evolution Gift Bag combined gives you an accelerated head start and a sustainable pathway to enjoyably achieve your dreams, goals and desires in 2023

JOIN THE AUTHENTIC POSITIVITY SYSTEM - FULL MENTORSHIP PROGRAM HERE

And enjoy lifetime membership to the ongoing Gift Bag program for free.
It's always a joy to support you on your journey to true happiness and more uplifted world for all.

Georgia and the Circle of Light

Website: http://circleevolution.com
Facebook: https://www.facebook.com/CircleEvolution
Twitter: @circleevolution
Youtube: https://www.youtube.com/circleevolution
Instagram: @circleevolution and @comingoutofcosmiccloset

PS. If someone has forwarded you this email and you would like to receive my emails directly please join my mailing list here. There is no cost to receive this information and many benefits in connecting.
JOIN THE EVOLUTION REVOLUTION
Receive my free report which reveals the Number 1 reason why your bad ass, spiritually evolved self is STILL stuck on that INFURIATING, FRUSTRATING problem.
JOIN THE EVOLUTION REVOLUTION
Receive my free report which reveals the Number 1 reason why your bad ass, spiritually evolved self is STILL stuck on that INFURIATING, FRUSTRATING problem.