Thursday, October 24 2019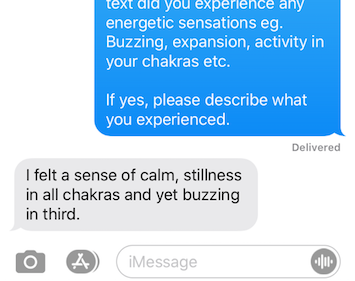 Can energy be sent through a text?

With the new potentialities of the 5D Grid, I recently discovered that I could send an energy transmission via text.
I wanted to test out the premise, so I invited "energy-sensitive" members of my email list to participate in an experiment.
I asked them about their issue.
How long they have been struggling with it.
And had them rate it's seriousness/importance on a scale from 0-10, and the mental/emotional intensity of dealing with the issue from 0-10.
Here are some of the results I've received from my recent experiment with energy sensitive participants.....
Saturday, October 05 2019
"Hey there Georgia"

I hear you say

"Isn't this supposed to be a 'spiritual' blog?

Why is there a photo of a men, carrying on like a bunch of pork chops, at the top of it?"
Well, I'm about to tell you a beautiful Tiger Tail of love, death, grief, winning, consciousness and so MUCH MORE!
JOIN THE EVOLUTION REVOLUTION
Receive my free report which reveals the Number 1 reason why your bad ass, spiritually evolved self is STILL stuck on that INFURIATING, FRUSTRATING problem.