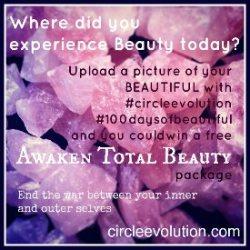 Learn how you can enter to win a one month scholarship to work with Georgia and The Circle of Light in the Awaken Total Beauty Program.

Like many of the great forces of life, (love, creativity, sexuality, career ambitions), beauty can push up our most resistant, dense, polar-opposite "non-beautiful" feelings; feelings like shame, self-hatred, loneliness and unworthiness.
When these feelings emerge in the face of great beauty we may be struggling with "Wounded Beauty Consciousness".
There are many harmful ways Wounded Beauty Consciousness can manifest in our lives. And there are many beautiful things that can happen when it's healed.
Read on to find out more.
JOIN THE EVOLUTION REVOLUTION
Receive my free report which reveals the Number 1 reason why your bad ass, spiritually evolved self is STILL stuck on that INFURIATING, FRUSTRATING problem.