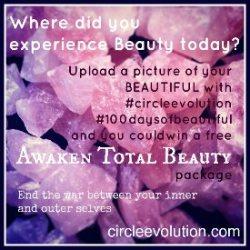 Sometimes one of my biggest challenges is explaining how special working with the Circle of Light actually is, and how profound the experience is when you connect with them on a regular basis.
How can I, as a human being, possibly claim the beauty, energetic power, and breathtaking expanded wisdom, of a consciousness that exists in a vibrational realm far beyond this physical plane?

I can't without sounding just a little bit "I am the Second Coming" mad. Bust out the tin foil hats and sandwich boards.

I just received a beautiful email this morning from a client and so I am going to let it do the talking

"I have other teachers and healers who I have known for years: James Van Praagh, Hollister Rand, Howard Wills, Ron Roth and Paul Funfsinn of Celebrate Life, Rosalyn Bruyere of the Healing Light Center Church, Rev. Tracy Parker's Touch Healing, the So. Cal. Psychic Institute, Master Mantak Chia, and Gurumayi Chilvanasananda.
The work over many years with these teachers, has brought me to you and The Circle of Light.
The level of the work you offer is absolutely amazing!

You and the Circle have worked with us in getting to know our own energy within and without and our connection with the energy of Spirit...

You've worked with us through meditative journeys and processes that take us deeper and deeper within to feel.

We become aware of and feel the patterns of energy that we have created, as we then let go....setting us free from our patterns and their manifestations in our mental, emotional, physical and spiritual.

Every time we work, we are left filled with so much Light and Love, and peace.
Your work has touched me and moved me in new and profound ways...

The beauty is that we learn to apply this work ourselves as situations and relationships present themselves - in other words, we have a way to really "deal" with our lives.
I've said it before, but I want to say it again: Thank you so much Georgia, for Everything!"

Elyse Smerling, Awakening Masters Program and Psychic and Healing Development Group
For more testimonials go here.

You might have connected with me because I gave you an Intuitive Tarot reading at Quest Bookstore, what I call "The Gateway Drug" to what I really do. LOL.

Or perhaps you met me socially, or at another event, or you saw one of my videos online.

You may even be family or a friend, someone who has seen me go through my own ups and downs on this Mastery Pathway.
Or maybe you have just randomly discovered this blog through a google search.

What I can guarantee is no matter what your impression of me is, or how positive it is, as a human being, it CANNOT possibly encapsulate how special, amazing and energetically magical working regularly with The Circle of Light is.

And realizing that this is such a special experience I have always been mindful of thinking of ways I can share the energy of The Circle of Light with those that truly want to connect.

So I am announcing a special opportunity to win a one month scholarship to my new

Awaken Total Beauty Program

As part of this program I am inviting you to become aware of the vibrations of Beauty that do exist in your life by capturing it on film.

By becoming aware, we can become attuned to its frequency and therefore invite it more fully into our lives, our beingness AND our bodies.

Just upload a picture on Facebook or Instagram with #100daysofbeautiful #circleevolution and any other words that express for you what beauty is and you will be in the running to win this scholarship worth over $700

Make sure you Like me on Facebook or follow me Instagram

Everyday I will be looking for images to see who will be in the running for this very special program.

I'll be announcing the winner May 5th, 2014

Awaken Total Beauty
This is a program through which we will explore, discover and dissolve the unsupportive belief structures, attached "meaning" and emotional reserviors that feed Wounded Beauty Consciousness and all its negative manifestations such as
- Low self esteem, self hatred, shame
- Addictions and self destructive behavior
- Poverty, drudgery and martyrdom consciousness
- Heartbreak, relationship and sexual dysfunction
- Eating disorders, body dysmorphia. weight gain
- Physical conditions, illness and stress

Each month involves
- 4 one-on-one sessions with The Circle of Light.
- Membership to the Monday and Wednesday night conference call program and access to the recordings library.
- Self assessment tools and exercises to help you continue to explore and dismantle your unconscious "anti-beauty" paradigm.
- Downloadable copy of our book - The Circle of Light and the Philosopher - Another Magnificent Day - Keys for Unlocking the Soul's Potential.
If you feel in a great place within yourself but you know of someone who would benefit from the Awaken Total Beauty program please forward on this email.

And if you would like to just sign up for the program now please email me at georgia@circleevolution.com. I am only taking on 5 new clients for this program and spaces fill up fast.
Peace and Blessings,
Georgia and THE CIRCLE OF LIGHT
http://circleevolution.com/

PS. Please forward on this information to anyone you feel may benefit.
PPS. If someone has forwarded you this message and you would like to receive my emails directly please join my mailing list here. There is no cost to receive this information and many benefits in connecting.
Learn more about Total Beauty Consciousness through my blog series beginning here.