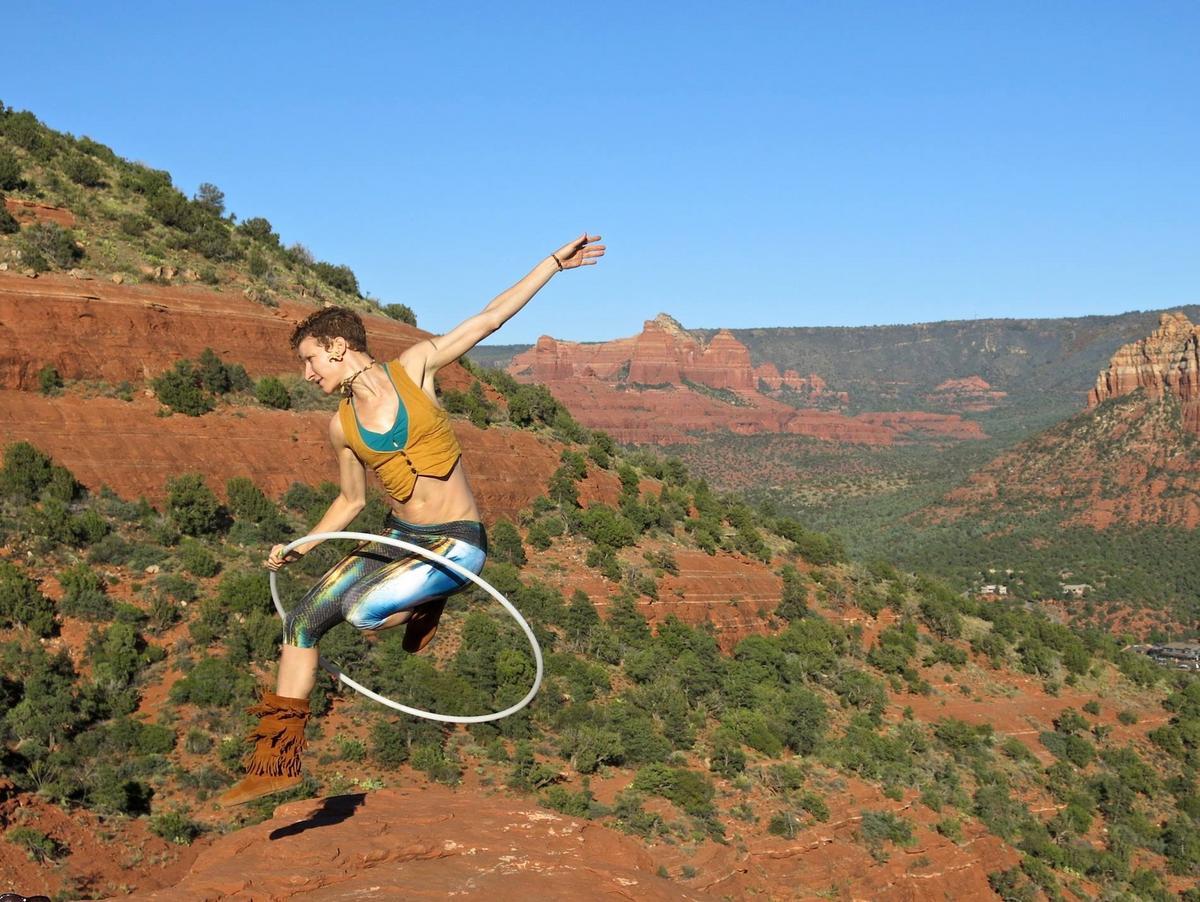 In the last few years I have discovered that the combination of integrative techniques AND movement work results in the kind of manifestational power that is MAGIC!!
It truly is a powerhouse of creative energy.
Why?
Because when we stretch, extend and open the body through movement, energy that has been locked away, often in resistant states (tension, illness, excess weight), becomes freed up in the system.

Integrative techniques reorganize that energy so it is working for us, rather than against us.

More free flowing energy gives us more physical energy to take inspired action, PLUS it also expands our lightbody. What we call "The Presence".

The power of "The Presence" is what creates the magical effect in our lives.

It's an energetic field that operates creatively, in a way that far exceeds the willfulness of the egoic mind.

This is because the Presence has creative, and interactive access, to what is beyond our basic physical senses eg. what we can perceive, and therefore consider possible.

The Presence is what guides us to step into the right place, right time, to line up with the best solution, answer, interaction or situation that can help us manifest what we desire with our hearts and souls.

It communicates to us in different ways, such as feeling expansion in the body when you come upon the right solution, "knowingness" eg, just knowing something is right, or drawing us to a person, book or experience that has the solution.

Often these prods might go against what we would think logically, because our logic is based only on what we experience with our physical senses.

Where as the Presence has the bigger picture. Eg. being guided to turn down a "good solid job" because an even bigger, better opportunity, that you haven't heard of yet, is just around the corner.

But more than this, because the Presence is a vibrational field, that is operating "beyond" the fears, limitations and restrictions of the egoic mind, it is actually CREATING that bigger, better picture in front of us, AS WELL AS guiding us towards it.

You could think of The Presence as the Master Manifestor in our life.

It's the amount of our expanded soul consciousness that is "embodied" in this current life experience. The more integrative work we do, the bigger the volume of our Presence, and the more power it has to create and influence.

Not only does The Presence influence our own lives, when a person's Presence is large enough, it can effect a global change.

My favorite example of someone with a massive Presence is Nelson Mandela. He effected global change, largely WHILE imprisoned in a tiny cell.

Being imprisoned, and therefore lacking the ability to take a lot of physical action, did not impede his global effect one bit. In fact, I imagine, the kind of inner, integrative work he must have been doing to cope with his imprisonment led to the expansion of his Presence, so that on his release apartheid was finally ended.

And, of course, his own personal life greatly improved. He got to live the much loved and celebrated life experience he so deserved to have.

To me this is the truly inspiring aspect of integrative work. Taking the density that life has given us, in the form of struggle, illness and challenge, and transmuting it into massive amounts of high frequency energy that enacts powerful and lasting change for the betterment of self, AND THE PLANET.

Often, when we sit in the presence of someone with this Presence, our own energy fields are lifted, as the power of their frequencies entrains our frequencies to match.

I am very excited to announce that one of the new teachers on my upcoming Hawai'i retreat line up is someone I believe to have this Presence. She is a person, who through simply following her bliss, started a MASSIVE worldwide movement.

Her name is Anah Reichenbach, (pictured above) and she is internationally recognized as the Mother of Modern Hoopdance.
Anah picked up a hula hoop at a party 16 years ago, and, after connecting with the joy of it, just started hooping at parties.

Not caring what anyone thought she got her groove on until people started catching on. Next thing you know, she had launched a worldwide movement that has brought infinite joy, healing and transformational change to hundreds of thousands of people from Africa to Italy, Australia to Malaysia. She is a legend.

But when you met Anah you will see, that, although her radiant energy is palpable, like many great Masters she is full of the humility and wisdom that comes with walking the Masters path. A pathway that takes great personal courage and is not always easy.

Yet she's also a HUGE amount of fun and with a wicked sense of humor.

There are many great hoop instructors out there, but none could be more fitting for the theme of Awakening Mastery than Anah. I am thrilled beyond the moon to have her in Hawai'i with us.

I promise you will be receiving far more than hooping lessons from sharing time and space with her.

Please check out Anah's page to learn more about this super special and inspirational lady.

If she can start a worldwide movement, just doing something that felt good to her, WHAT CAN YOU DO?

In my next email I am going to explain to you why I believe hula-hooping is actually THE most powerfully transformative movement work on the PLANET!!!

YES, more so than yoga. And we all know how awesome yoga is.

As most hoopers say "Once you know, you KNOW."

Keep your minds open and stay tuned.

And check out my Hawai'i retreat page where you will learn this powerhouse of integrative techniques and movement work .

With three different teachers there are multiple different, but thematically congruent, styles of classes being taught morning, afternoon and evening, as well as the pleasures of the retreat center itself to enjoy.

Pick and choose. Go at your own pace.

Create your favorite experience.

I can't wait to share this unique and life changing experience with you.

See you in the Circle!
Georgia and THE CIRCLE OF LIGHT
http://circleevolution.com
PS. Please feel free to forward this blog on to anyone you feel might benefit from the experience.
PPS. If someone has forwarded this blog to you, and you would like to receive our messages directly, please join my email list. Through this portal I am able to share much of the beneficial wisdom I have gained through my connection to the Circle of Light. It costs nothing to join and there is much to be gained.
Photo credit - Rochelle Kramer